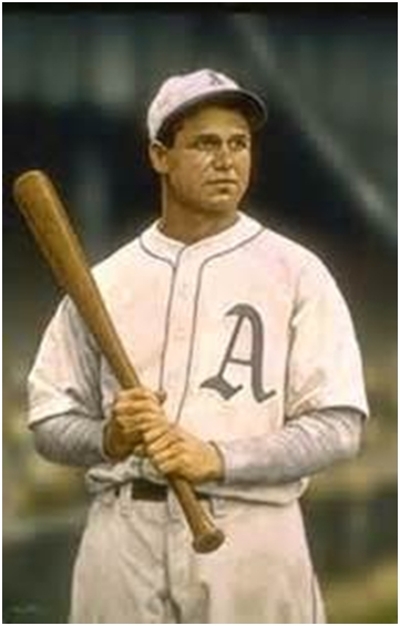 Jimmie Foxx - Player

Inducted in 1994

James Emory "Jimmie" Foxx (Player)- He was born October 22, 1907 in Sudlersville, MD. At Sudlersville High School, which was closed in 1966 and became Sudlersville Middle School, he excelled in soccer, track and baseball. His power hitting on the baseball diamond attracted the attention of Frank "Home Run" Baker who was managing Easton in the Eastern Shore League and Foxx was invited to a try-out, from which he joined the team. Baker then recommended the 17-year Foxx to Connie Mack, and Foxx signed with the Philadelphia Athletics in 1925.
In the Major League, he was nicknamed "Double X" and "The Beast" because he was a formidable power hitter, hitting 30 or more home runs in 12 consecutive seasons and driving in more than 100 runs in 13 consecutive years. Jimmie was an first baseman who played 20 seasons in Major League Baseball for four different teams. They were the Philadelphia Athletics, Boston Red Sox, Chicago Cubs and the Philadelphia Phillies.
Jimmie was the second player in Major League Baseball history to hit 500 career home runs, after Babe Ruth. He achieved this plateau at age 32 years 336 days. He is the second youngest to reach 500 behind Alex Rodriguez who accomplished this sixty-eight years later in 2007. Jimmie has three career Most Valuable Player awards which ties him second all-time.
Jimmie was inducted to the National Baseball Hall of Fame in 1951. In 1994, he was inducted into the Eastern Baseball Hall of Fame, and 1997 the Town of Sudlersville dedicated a statue in his honor. At the dedication, Governor of Maryland Harry Hughes stated "Great baseball players are an inspiration to their community and baseball fans everywhere. It is a special place that they hold for the youthful and talented. Jimmy Foxx continues to be an example to youth who aspire to follow on the baseball diamond. He was a local boy who, by talent, training, perseverance, and striving to reach his potential, made it to the Hall of Fame. We recall Jimmie Foxx as an example for all youth who would play the game."
The Eastern Shore Baseball Museum has a Jimmie Foxx Wall where you can support the operation of the Museum by purchasing a plaque in Memory of or in Honor of a person you wish featured. They are Bronze Plaques 10" x 2" representing each of the Homeruns hit by Jimmie Foxx. You can purchase one for $100 each and it will be displayed on the right wall as you enter the museum. You may purchase one for yourself.