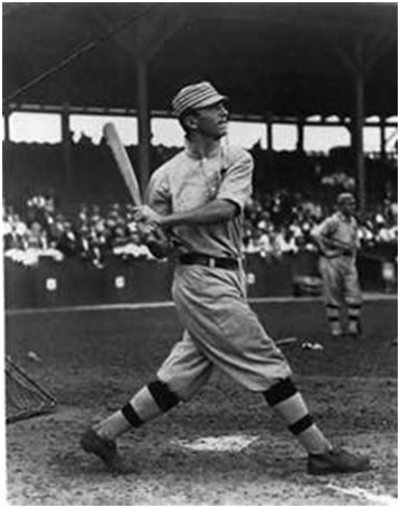 Frank "Homerun" Baker - Player

Inducted in 1995

Frank Baker was born on March 13, 1886 in the small town of Trappe on Maryland's Eastern Shore and earned renown as a semi-pro player in the nearby town of Cambridge. In 1908 he played for the Reading Pretzels in the Tri-State League where he was discovered by Connie Mack. His contract was purchased after two months by the Athletics, who owned a large part of the Reading team.
Frank was an American professional baseball player. A third baseman, Baker played in Major League Baseball from 1908 to 1922, for the Philadelphia Athletics and the New York Yankees. Baker has been called the "original home run king of the majors".
Baker led the American League in home runs for four consecutive years, from 1911 through 1914. He had a batting average over .300 in six seasons, had three seasons with more than 100 runs batted in, and two seasons with over 100 runs scored. Baker's legacy has grown over the years, and he is regarded by many as one of the best power hitters of the deadball era. During his 13 years as a major league player, Baker never played a single inning at any position other than third base. Baker was elected to the National Baseball Hall of Fame by the Veterans Committee in 1955.
Following his retirement as a player, Baker managed the Easton Farmers of the Eastern Shore Baseball League during the 1924 and 1925 seasons. He was credited with discovering Jimmie Foxx and recommending him to Mack. After Baker sold Foxx to the Athletics, the Farmers fired Baker, because they believed Mack did not pay a high enough price for Foxx.