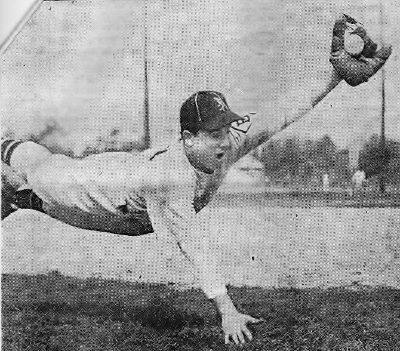 Mike Kardash - Player

Inducted in 1997

Michael "Mike" Kardash (Player) - He was a fine short stop with great range and a strong accurate arm who played the position in professional style. He help Washington College win the Maryland Collegiate League four years in a row with his excellent fielding and timely hitting. Because of his excellent abilities on the field of play he was selected on the All Maryland team for three years.
Mike was called "Mighty Mite" by a local reporter because his fine basketball skills. In spite of his size, or lack of it, Mike compensated with his speed and fearlessness when cutting for the basket. He was a fine outside shot, and was equally effective on the inside.
He was a native of Baltimore, Maryland who started his professional baseball career in 1940. He signed a contract with the Baltimore Orioles and was assigned to play for the Dover Orioles. That year he played shortstop and batted .306 to help them win the Eastern Shore League Pennant.
Mike was then assigned to the Lancaster Red Roses of the Interstate League where he had a .308 batting average. He then played for the Baltimore Orioles in 1942 and 1943 before enlisting in the U.S. Navy.
In 1961, he served as President of the Maryland Professional Players Association. In 1986, he was inducted into the Maryland Old Timers Baseball Hall of Fame. He was later inducted into Delaware Baseball Hall of Fame in 2009. In 1982 he was inducted into the Washington College Hall of Fame in 1982, this was the school's second-ever induction class.