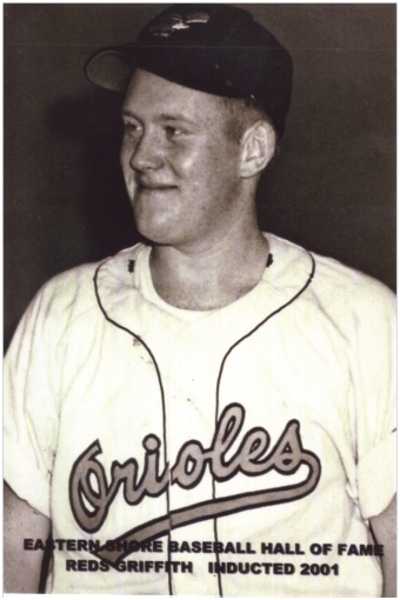 Richard "Reds" Griffith - Player

Inducted in 2001

Richard "Reds" Griffith (Player) - He was an outstanding pitcher from 1953 - 1956 for Mardela High School, winning 20 games and losing only 4 games. During that time "Reds" pitched 1 no-hitter and 5 one-hitters. He also played outfielder and first base for the team.
In 1956 "Reds" he played for Sharptown American Legion Post 214 where he hurled a one-hitter against Wicomico Post 64 striking out 23 batters and winning the game 2-1. That same year he pitched a two-hitter at Salisbury Post 64 to qualify for the State Legion Tournament. In the tournament "Reds" pitched 22 2/3 innings in three days winning two games and saving two other games. He also batted .471 and was awarded the Most Valuable Player of the tournament.
In 1955 - 1956 "Reds" played for the Sharptown Eagles of the Central Shore League and signed a professional contract with the Washington Senators in September 1956, and was assigned to the New York Elmira Pioneers of the New York Penn League.
In 1957 with the Elmira Pioneers he recorded 14 wins and 10 losses and was the "Strikeout King" for the league with 176 strikeouts.
In 1958 during spring traing, the Washington Senators assigned "Reds" to the Appleton Wisconsin team of the Three I League in which he recorded 13 wins and 10 losses.
"Reds" played two more seasons with Appleton, Wisconsin and Charlotte, North Carolina before being drafted in to the Army in 1961.