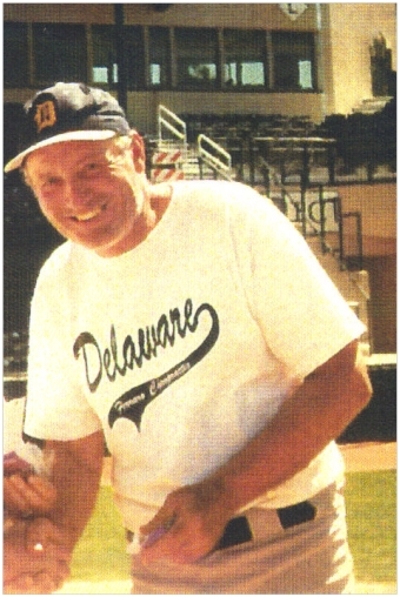 Dennis L. Cannon - Player

Inducted in 2002

Dennis Cannon (Player) - He began his career playing for the Greenwood team from 1951-1953 in the "Pony League" before youth leagues in the Kent-Sussex area were affiliated with nationally sanctioned Little League. In 1954, Dennis played for the Bridgeville team in the American Legion League
He played for Greenwood High School from 1955-1956, but was unable to play his senior year due because of a kidney infection.
In 1958 he played first base for the Hebron A.C. team in the Central Shore League. The team lost in the playoffs to Snow Hill. Dennis won the league batting title with a .379 batting average, and played on the Central Shore League All-Star Team.
In 1959-1960, Dennis was captain of the Wesley College Baseball team pitching a 7-0 shutout for the team on May 7, 1960, and at that time his batting average was .400, second highest in the league. He finished his college career at West Virginia Wesleyan College in 1961 and 1962. He was selected "Player of the Year" in 1962, leading the N.A.I.A league in batting average.
After college he was a member of the Lower Delaware Umpires Association from 1966-1967, and coached in the Camden-Wyoming Little League from 1976-1977.
His desire to play baseball came back in 1997. Dennis went on to play in the Senior Leagues from 1997-2000. He played for the Delaware team in 1997 that won the gold medal at the National Senior Olympics in Tucson, Arizona. He played with a Senior All-Star Team from Philadelphia from 1998-2000. That team went on to play in the MSBL World Series in Phoenix, Arizona in 1999 and 2000. At that time, he was the only player from downstate Delaware over 60 years old still playing at the national level of amateur baseball.