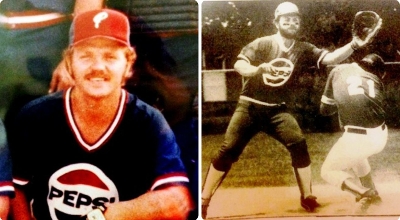 Neil "The Hammer" Helgeson - Player

Inducted in 2006

Neil Helgeson - (Player)
Helgeson was born on November 20, 1957 in Crisfield, MD, located in Somerset County. Helgeson moved north with his family when he was 8 and developed his talent through the Fruitland Little League system under Coach Wayne Taylor. Helgeson played on the 1968-1969 Fruitland Little League All-Star Team which won the district championship and played in the state of Maryland championship game. Helgeson later became a star player at Wi-Hi as a third baseman under Coach Butch Waller, winning the Bayside Championship in 1974. Additionally, Helgeson was a Prep All American football player at Wi-Hi in 1975 under Coach Wayne Mitchell and George Shoaff. He was also a standout soccer player in Wicomico County for the Fruitland Lions Club under Coach Ross Ritter. Helgeson gives his former coaches a lot of credit for his successes in life and sports because they taught him how to conduct himself on and off the field.
After graduating from Wi-Hi in 1975, like so many others in the area, Helgeson played fast-pitch and modified-pitch softball because there was no baseball for men over the age of eighteen. It was here where Helgeson learned of a movement underway to rekindle the flames of the grand ole sport of the Eastern Shore. The spark was provided by the Eastern Shore Baseball Hall of Fame committee, comprised of a group of men who made a mark in the game when baseball was on the lips of folks far and wide. The committee was composed of major leaguers, minor leaguers and products of the old Central Shore League and other great leagues in the area.
The aim was twofold. The establishment of a Hall of Fame for the stars of yesteryear and to provide a new baseball league for those 18 and older. Upon learning of the movement, Helgeson jumped on the bandwagon and today is considered one of the founding fathers of the new league, creating the first team, "The Pepsi Challengers," which launched its first season in 1983. The Pepsi ball club was sponsored for several years by a wonderful community leader and philanthropist, Mr. Dick Hazel.
Helgeson played baseball with Pepsi for his entire career. Helgeson and his teammates won the league's first championship in 1983. Helgeson was also named the league's "Most Valuable Player" in his second season in 1984 when he hit for a batting average of .483. Helgeson remained among the league leaders in hitting, homeruns and fielding percentage throughout his entire career. Although he was mostly known as a third baseman, Helgeson was also a proficient catcher, pitcher and shortstop throughout his career. Neil Helgeson fulfilled his dream to continue playing baseball on the Eastern Shore, retiring at the age of 37.
After retiring, Helgeson served his community by volunteering to coach several youth baseball and soccer teams over a span of 15 years. Helgeson accepted Jesus Christ as his personal savior in 1989 and became a member of the Fellowship of Christian Athletes. He thanks God for baseball and his many blessings. He currently serves as Vice-Chairman on the Board of Directors of the Eastern Shore Baseball Foundation.
Helgeson gives thanks to his wife Cathy for encouraging and supporting him throughout his career. When most of the men in the league started families, their playing days were over. Helgeson was away from home many weeknights and weekends playing baseball while Cathy was home taking care of 3 small children. Neil knows he would have never been able to enjoy a long, successful career without her by his side. He is forever grateful and appreciative of his wife Cathy.