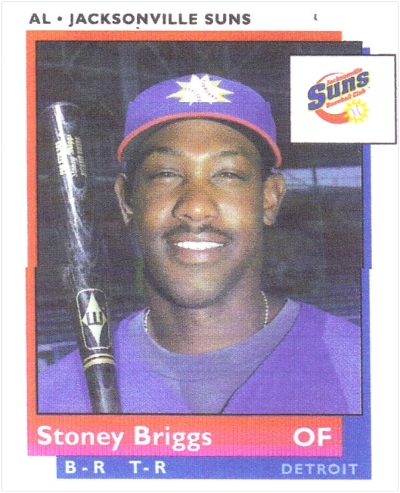 William "Stoney" Briggs - Player

Inducted in 2010

William "Stoney" Briggs (Player) - Originally from Seaford, DE, he began his professional career with the Toronto Blue Jays being selected in the 8th round of the 1991 amateur draft. The Blue Jays assigned Stoney to the Medicine Hat Blue Jays, for whom he batted .297 with a team-high 8 homers. In 1992, Stoney batted .239 for the Myrtle Beach Hurricanes. He stole 33 bases in 47 tries and scored 75 runs.
In 1993, Stoney was traded to the San Diego Padres and was assigned to the Waterloo Diamonds. He hit .257 with 21 steals in 29 tries. He hit .269 for the 1994 High Desert Mavericks with 17 homers and 76 RBI, but was only 14-for-27 in steal attempts.
In 1999, Stoney came to the Korea Baseball Organization's Haitai Tigers. He hit .283 with 23 home runs and 74 RBI in 361 AB; the 2000 Baseball Almanac credits him with 21 steals for a 20-20 season. He was 8th among import players in homers in a power-heavy year.
Stoney's productive play in Korea got him another opportunity in the US. He signed with the Detroit Tigers for 2000 and spent the season with their Jacksonville Suns club. He hit .254 with 39 doubles, 17 homers, 60 walks, 145 strikeouts and 17 steals (in 23 tries). He led the entire Detroit minor league chain in doubles. The veteran also paced the Southern League in doubles and tied for the most extra-base hits in the circuit.
Stoney in 2001 played for the Bowie Baysox, batting .244 with 8 homers in 55 games.
In 2003, Stoney played with the Camden Riversharks, hitting .254 and in 2004 he batted .259 to wrap up a long and productive career in baseball.