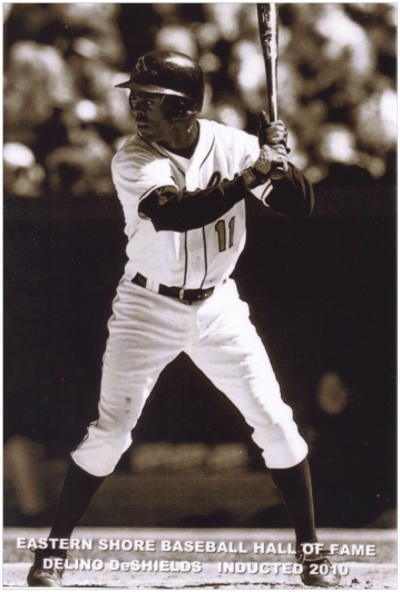 Delino DeShields - Player

Inducted in 2010

Born in Seaford, Delaware and played for Seaford High School. Delino was to attend Villanova University where he would have played point guard on the basketball team; however, after being selected as the 12th overall pick in the 1987 Major League Baseball draft, he chose a career in baseball. He enjoyed a 13-year career as a second baseman, playing with five teams. Delino was the manager for the Dayton Dragons, a single-A affiliate of the Cincinnati Reds organization for the 2011 and 2012 seasons. On December 12, 2012, it was announced that DeShields would become the manager for the Cincinnati Reds AA minor league team, the Pensacola Blue Wahoos for the 2013 season.
Delino became the regular second baseman for the Montreal Expos in 1990, finishing in second place for the NL Rookie of the Year award. He suffered from a sophomore slump in 1991, but went on to post his two best years in 1992 and 1993, hitting .294 and averaging 45 stolen bases.
In 1996, Delino signed as a free agent with the St. Louis Cardinals, and later played with the Baltimore Orioles and Chicago Cubs. In 2001, he was the last out in Hideo Nomo's no-hitter against the Baltimore Orioles.