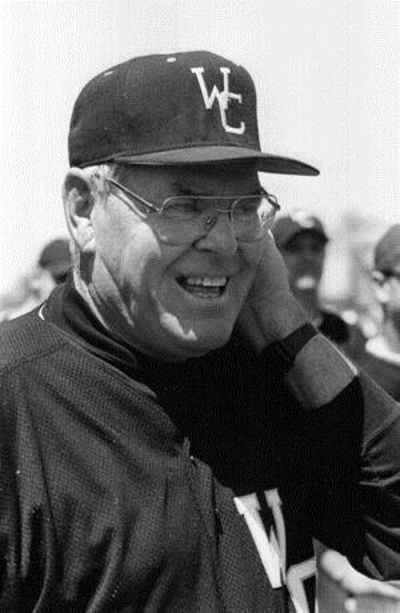 Edward Athey - Manager

Inducted in 2015

Edward "Ed" L. Athey - Manager - He was a three-sport athlete while attending Washington College, having roles as the quarterback on the football team, a guard on the basketball team, and also an outfielder for the school's baseball team. Ed was also very successful during the fall of 1942 going into the spring of 1943 when he was a member of the basketball team that went 14-4 and were Mason-Dixon Conference champions. In the spring of that of 1943 Ed went 3-3 as an outfielder for the Shoremen baseball team.
He coached the Washington College Shoremen baseball team for 28 seasons and compiled a record of 330 wins and 310 losses. He also coached the Shoremen basketball team for 12 seasons and the Shoremen soccer team for 30 seasons.
He was appointed athletic director at Washington College from 1949-1987 which was a tremendous accomplishment considering he was only two years removed from graduating with a bachelor's degree in 1947.
Ed is also the co-author of the book Athey's Field which was published in 2009 by the Literary Press House of Washington College. The following is an excerpt from the book:
"Ed Athey '47 got mad once. It's true because even he remembers it.
He was in his second year of employment at Washington College when he lost his temper, and it was because he Shoremen Basketball Team was getting badly whipped in the first half of a contest. "I knew we didn't have our heads in the game and I wanted to shake the boys up at half time," he remembered. "I stormed into the locker room with a basketball in my hand intending to throw it against the wall as hard as I could --- you know, get their attention. So, I cocked back and heave the ball, and it went right through the locker room window. That cost me a few dollars."
Edward was inducted into Washington College Athletic Hall of Fame on October 15, 1982 for his athletic abilities as well as coaching. His other awards received at Washington College were the Gold Pentagon, Clark-Porter Character Medal, and was named Best All-Around Athlete.