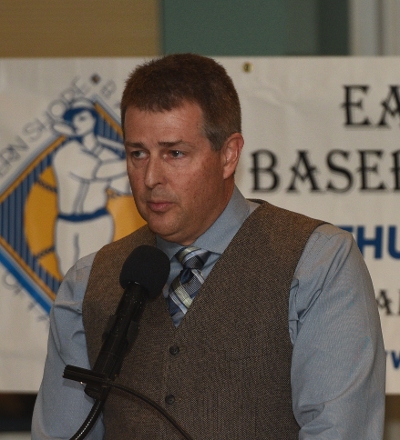 John Hershberger - Player

Inducted in 2015

Inducted 2015
John "Hersh" Hershberger - Player - As a young boy, John loved baseball so much that he would drag a whiffle ball bat while he was learning to walk. His father would pitch to him in there apartment and they would watched the ball bounce off the walls. He watched hundreds of baseball games that his grandfather and uncle played in before he was old enough to play in an organized baseball league.
John began his baseball career playing in the Fruitland Pee Wee League. During his 14 year career he played for the Fruitland Little League, Salisbury Pony League, Parkside High School, Old Dominion University, Salisbury University and the Perdue Chicks of the Eastern Shore Baseball League.
John was selected to the Fruitland Little League All Star team at the age of 11 and 12. He was also a Pony League All Star and a Bayside All Star while playing for Parkside High School. In 1986, he was selected to the Brooks Robinson Crown Maryland State All Star Team game at Memorial Stadium. During that game John hit a ground rule double in Orioles manager Earl Weaver's tomato patch.
While playing for the Perdue Chicks of the Eastern Shore Baseball League from 1989 to 1998, John's career batting average was .360 in that league. He was a leader on every team he played for. Derek Yobst, a 2013 Hall of Fame Inductee, said John is one of the best players to play on the Eastern Shore. In 1998, he batted .465 and was among the league leaders in several categories. John played for the Perdue Chicks in the NABF World Series held in Kentucky.
Beyond his playing career, he has giving his time to baseball in other ways. In college, he assisted Parkside coach Mike Golnick. He helped Mike conduct hitting clinics. He served as a coach and an umpire for several years at West Salisbury Little League.