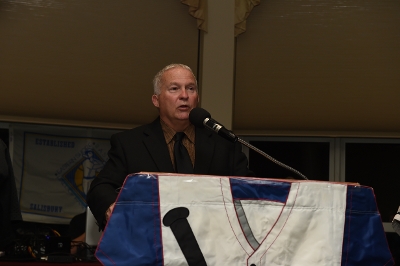 Michael W. Dorsey, Jr. - Booster

Inducted in 2019

A native of the Brooklyn neighborhood of South Baltimore, Michael Dorsey has been involved with baseball since his sandlot days. He learned to play baseball on the local fields only blocks from his home. He played baseball and ran cross country for Baltimore Poly where he graduated in 1979. He moved to the Eastern Shore in 1983 and immediately became involved in local baseball. He played for the Delmar Railroaders (1983) and Virginia Shores (1984-1990) in the Eastern Shore Baseball League. He started umpiring ESBL games in 1991 and served as Umpire in Chief for several years. In addition to umpiring in the ESBL, he also umpired for both Delaware and Maryland high schools, NCAA college baseball and the SAL. He became involved in the administration of the ESBL in the 90's and has served as President of the League for the past twenty years. His only shortcoming was that he never managed in the ESBL, but he did coach the Delmar Big League team from 1989 to 1991 and varsity girls softball at Salisbury Christian School from 2010 to 2013. In his spare time, Mike has been an integral member of the football coaching staff at Delmar High School. During his 36 years on that staff, he has helped guide the Wildcats football team to six Delaware State Championships, an awesome record for one of the smallest schools in the state.
Michael has been the guiding force in keeping the ESBL alive and well, during good times and bad, for well over twenty years. He has worked tirelessly on behalf of men's baseball on the Eastern Shore. He promoted the ESBL to the National level by lobbying the National Amateur Baseball Federation to return one of its Major Division Regional Tournaments to Salisbury. The Regional was held in Wicomico County for several years and Michael is actively working to return this tournament to the Shore next season. For his dedication and hard work in promoting baseball, Michael was honored by the NABF by being named as their national "Man of the Year" in 2012.
For his selfless dedication to promoting baseball on the Eastern Shore, Michael Dorsey is certainly qualified to be inducted in the ESBF HOF.