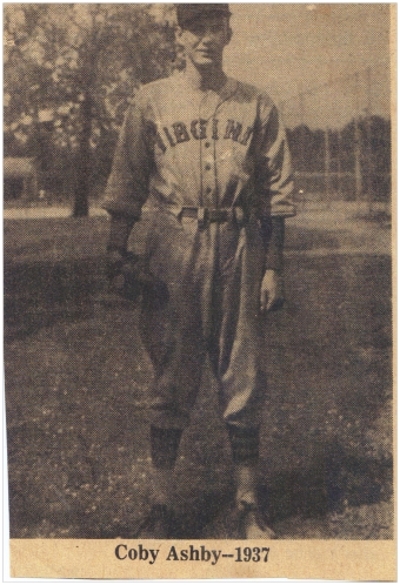 Coby Ashby - Player

Inducted in 1982

Graduated from Franktown High School in Nassawadox, Virginia in 1934. Attended the University of Virginia in 1936, where he became the "Cavalier's No. 1 Left-Hander".
Coby while in the U. S. Navy pitched for the Newport News Shipyards from 1941 - 1945. During that time, he played with Hall of Fame player Bob Feller whose Major League career with the Cleveland Indians was interrupted due to his service with the U.S. Navy. He also played with the Class-D Valley League in Pulaski, before returning home.
Coby after returning home played in the Mandel, Central Shore and Virginia Leagues on the Eastern Shore. He also played for the "Belle Haven" Indians from 1945 - 1950. Played for the Pocomoke Nine in the early 1950's where he pitched an 18-Strikeout game.